Niklas Portable Freestand
Our Niklas freestanding gantry system offers a unique way to safely and easily move patients without strain to the patient or caregiver. Designed for use with our series of ceiling lifts, the Niklas is portable and can be disassembled for easy transport. The Niklas is adjustable in height and width and requires no tools for assembly.
Portable Solution
The Niklas freestanding gantry system can easily be assembled without the use of tools.
Unassembled, it can easily be transported in the carry case to be used between different locations like home and cottage, or even in
hotel rooms. It features dual wheel casters for maneuvrability and strong handles for easy movement. The adaptability of this
gantry makes it an ideal option for temporary needs or rentals.
Adjustable
The unique design of the Niklas gantry allows it to be adjusted in both height and width, making it an extremely versatile gantry for
moving patients from a bed, wheelchair, toilet or floor. The casters all lock into position for added safety while the gantry is in use.
The Niklas comes complete with a rail roller so it is ready for use with our portable lift systems.
Quality
Our products are designed and manufactured to meet all the requirements of relevant ISO, UL, IEC and EN standards. At every stage
of the development process, every single product is given extensive attention in design, developement and manufacturing.
This means that a user of this product feels confident with its reliability and the caregiver feels confident with its safety.
Used with a ceiling lift or hoist to:
SUPPORT, LIFT, and TRANSFER patients in the comfort
Minimising lifting strain for caregivers
Features & Benefits
Lifts and moves heavy patients up to 220 kg easily and safely
Quick and easy height and width adjustment – freely adjusted without tools
One of the most portable Freestand-gantries on the market
Easily managed by one carer
No strain on patient or carer
Easily moves patient form a bed, wheelchair, bath/shower, or floor
Rail constructed of powder-coated extruded aluminum
Pole and Foot constructed of powder-coated steel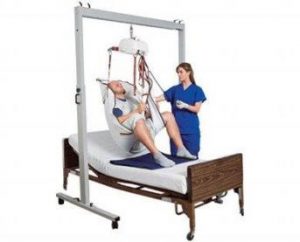 The Niklas Portable Freestand is a gantry system that offers a unique way of easily and safely moving patients without strain to the patient or to the caregiver
Designed for use with Ceiling Lifts or Hoists, they are a wonderful aid to moving patients from a bed, wheelchair, bath/shower, or floor.
Portable and easily transported in its convenient carry bag.
Dimensions
Adjustable Rail Length
Overall Width
Adjustable Rail Height
Product Weight
Safe Operating Load
Patient Weight Capacity
Minimum
1445 mm
1145 mm
1579 mm
30 kg / 66 lb
Maximum
2450 mm
1145 mm
2388 mm
220 kg
BROCHURE